Grab student attention with luscious food pictures that make them point and say "I want that!"
Presentation of your food selection to students is the single most important way to increase á la carte sales.
Growing your dining program
A quick illustration of how luscious, enticing food pictures on menu boards grow revenue in your dining program:
Years ago, fast food restaurants had large menu boards with many choices, but few pictures of their food items. When the cashier asked customers what they wanted, most would take a long time deciding. This slowed down the amount of customers through the serving line, and took the "fast" out of fast food.

One day, someone had the idea to put up pictures of the different items in the hope that it would enable customers to make selections quicker.
This one idea — using enticing food pictures — speeds the selection process and gets customers through the line quicker.
Notice how people order the next time you are in a fast food restaurant. Also, remember your visit to a favorite restaurant — if you chose your selection based on how the picture of your entrée looked on the menu.
Please Note
Even if your menu did not have pictures of the entrées — I'll bet the special dessert menu did! And if you ask your server, they will tell you that the picture is the main reason why people select a particular dessert Believe me, I speak from personal experience in this. I just can't resist a tempting dessert picture!
The power of menu boards
Pretty good average á la carte sales per student from the beginning of the school year, but see how high up it climbs after the menu boards were installed (with the same food offerings and same students)!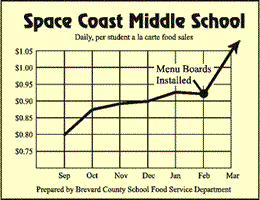 Choose from two different menu types