The features of Outdoor Furniture- Metal Mesh construction with elastomeric Powder Coat finish are far superior to other finishes. The elastomeric powder coat enamel finish on this furniture is durable and weather resistant to last in the outside environment.

Universal Seating Company's metal mesh furniture is available with ADA accessible seating. This outstanding furniture comes with the properties required to "laser engrave" your school name or mascot in the tabletop or bench seat back.

It is a sad fact of life that we are experiencing an increase in student abuse and vandalism- especially of outside furniture. The reality is that this happens in schools- no matter what the neighborhood conditions.

While we at Universal Seating Company feel this is unfortunate, we are pleased to provide a solution for this type of vandalism. We recommend furniture with metal mesh construction and the new elastomeric powder coat finish for a couple of reasons. First, it does not give graffiti artists a solid surface to draw on AND it can be quickly repaired if it is scratched or scored by vandals.

All of our seating units can be easily repaired. Your own maintenance personnel can fix any nicks and scratches in the coating in the field- simply by using a heat gun and a bit of the colored powder enamel.

Our furniture is constructed of the strongest metal mesh steel for maximum durability. While we do not warranty vandalism, our metal mesh furniture with our finish repair feature is your best defense against this problem.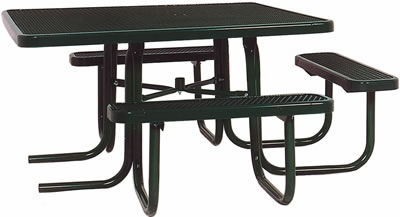 Model #358H-V ADA Accessible freestanding square seating unit.
Ultracoat Colors
| | | | |
| --- | --- | --- | --- |
| Green | Blue | Red | Brown |
| Black | Tan | Burgundy | |