Special design elements used in this school:

Enclosed trash cans - just like at McDonalds™ - no more spilled trash on the floor.
Sparkling Glitter metal flake finish on the booth backs and chair seats.
School logos inlaid into the tabletops to personalize the dining room for the students.
Moveable planters in the center of the room with green plants -just like in a fancy restaurant.
The colorful Redwood Rangers name on a large ceiling hung art piece with academic and sports pictures included.

We received a wonderful testimonial from the Visalia Unified School District!
Before & After:


Redwood High,

Visalia, CA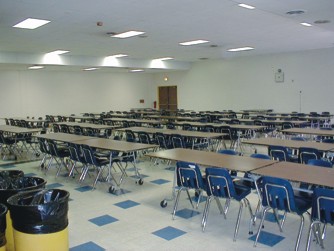 Before: Not a bad cafeteria - clean and neat with long rows of dark walnut tabletops and blue chairs. But not real exciting to attract students into the room.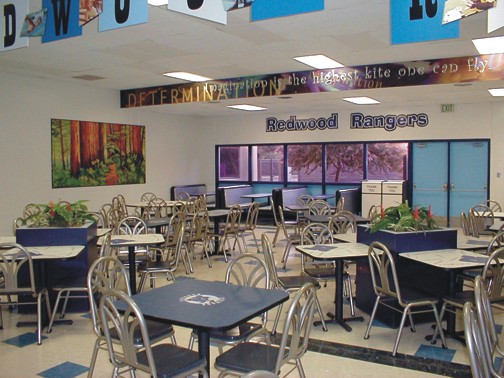 After: Now the room has banner artwork highlighting the school Ranger logo with academic themes, and a huge, beautiful 5 feet high by 10 feet wide hand-painted mural of a huge redwood tree with a hiker. The tables have school mascot logos inlaid in the tops, and the booths along the walls make the room look like a fast food restaurant.